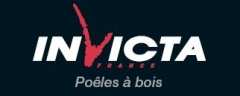 INVICTA, foundry and enamelling plants are established since 1924 in Donchery in the French CHAMPAGNEARDENNEregion. Today its know-how extends to sectors as different as : wood heating, barbecue, culinary pottery, furniture and decoration.
With an annual output of 170 000 heating appliances, INVICTA is the leader in its activity.
INVICTA controls 100% of the manufacturing processin-house : design and research department, certified test lab, foundry, surface treatment, marketing and
distribution.
INVICTA creates and manufactures a large range of wood burning appliances to fulfil customers' expectations. Invicta imagines next generation of fireplaces to meet tomorrow's needs and desires.
INVICTA's creativity and latest technological innovations perpetuate and renew the foundry universe with up-to-date and eco-friendly wood heating fireplaces.
• 100% cast iron & highly insulated heating appliances
Excellent thermal conductivity, strong inertia, completely recyclable, cast iron is the historical choice of the largest manufacturers of wood-heating products. Invicta's expertise guarantees the engineering of long-lasting and hermetic fireboxes.
• High energetic & environmental performances
Invicta's fireboxes produce a high efficiency (minimum 70%) and a reduced CO rate (less than 0,3%) which is a cost and energy saving guarantee in respect with environment.
• Comfort of use & ergonomics
In addition to an excellent design work, Invicta's boxflam range offers several characteristics facilitating its use : continuous fire, power modulation according to the needs of the home. (from 5 to 32 kW).