Double wall isolated or single wall stainless steel flue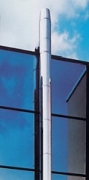 Do you have interest in chimneys from the rustproof steel? Do you still have no chimney? The additional installation of yuor chimney systems is easy and inexpensive.
The double wall flue system fabricated from high quality stainless steel DIN EN 1.4404 and 1.4301 and mineral heat insulation. Steel thickness is 0. mm.
T600-N1-W-Vm-L50060-G130(O85)
The quality of the material used for the inner tube guarantees a extremely long duration of life. The heat insulation intermediate (Thickness 50 mm) is high temperature resistant.
Benefits:
- Corrosion resistant due to its high stainless steel quality
- Safety against buckling/Resistant to buckling
- Fast and simple erection resulting in reduced installation cost
- Suitable for all common types of combustion (Oil, Gas and Solid Fuels)
- In many fields of application the double wall flues are the most economic solution for chimneys and adjacent pipe work.
 Applications
- Housing Construction
- Commercial Buildings
- Internal and external constructed applications
- Freestanding chimneys
- Retrofitting
- Industrial plants
- Exit air systems
- Connection pipes
- Air-based space heaters
- Drying plants
- Firing Kilns
- Fire Places
- Exhaust systems